Ingredients: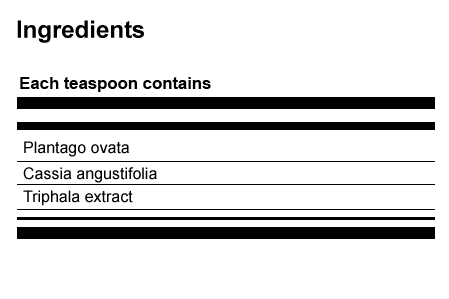 VitoLax: A Perfect Blend of Potent, Quality Herbs with Laxative Properties
Plantago ovata -
3.5 mg



Plantago ovata (Isabgol): It acts as a "high fiber bulk forming laxative"
Function: Bulk forming laxative usually adds bulk and water to your stools. The large amount of stool helps the bowel to contract and move the stools out.

Cassia angustifolia – 100mg



Cassia angustifolia (Swarnapatri): It acts as a "stimulant laxative".
Function: It triggers the bowel to squeeze or contract to move the stools out.

Triphala: – 250mg



Triphala: It acts as a "mild laxative"
Function: it helps in easy bowel evacuation

Choose Health…. Say No to Harmful Synthetic Products
Improve your health with non-toxic natural laxative "VitoLax" over other synthetic laxatives containing harmful chemical……

Today's market is flooded with a number of synthetic laxatives which causes numerous side-effects i.e.
| | |
| --- | --- |
| | Bulks forming laxatives are associated with side-effects like bloating, gas or cramping at first. |
| | Stimulant laxatives are associated with side-effects like abdominal discomfort, faintness and cramps. |
| | Most of the other laxatives are associated with side-effects like cramping gas, bloating, nausea, or diarrhea. |
On the contrary, VitoLax, being an herbal product is completely safe with no side-effects as well as benefits you with its laxative properties.
Get Rid of Your Constipation Problem Forever with VitoLax!




I have been using different laxatives since 2 years but soon after few months I started getting faint and had nausea. I consulted my family doctor which told me that it was nothing but the side-effects of laxatives which I was taking. I completely stopped consuming laxatives which again made me suffer from constipation problem. Then I tried VitoLax™ because it is an herbal remedy which has no side-effects. It not only controlled my constipation problem but also improved my body digestive functions.
Shelley , 32, Amsterdam